How Do I Avoid Back Surgery?
Synergy Oviedo Chiropractic is proud to be one of the few offices to offer Spinal Decompression Therapy to our community and patients. Spinal Decompression therapy is designed to help patients who suffer from disc problems including bulging discs, herniated discs, or degenerated discs in the neck and low back. Symptoms include neck, back, arm, wrist, or leg pain, numbness, and even sciatica. This exciting therapy offers a high success rate, especially when combined with corrective chiropractic care and spinal rehabilitation.
Click Here to Avoid Back Surgery. Contact Dr. Janowitz Today!

How is Synergy Oviedo's Spinal Decompression Therapy Different?
We utilize the Kennedy Decompression Table, KDT, one of the most sophisticated computerized traction systems available. This unique system provides a wide variety of patient positions (face down, face up, or even side lying) combined with one of the most advanced electronic traction machines to optimize both patient comfort and disc decompression.
Examples of Treatment:
---
---
Do I Qualify for Spinal Decompression?
While not all patients qualify for this type of care, Spinal Decompression Therapy is ideal for patients who have disc problems (disc bulge, disc herniation, disc protrusion, degenerative disc disease, foraminal stenosis, annual tears) that are prohibiting them from achieving their maximum health potential and keeping them from participating in activities they enjoy such as golfing. This therapy can take them to next level in healing and avoiding potentially dangerous spinal injections (steroid epidurals) or surgery.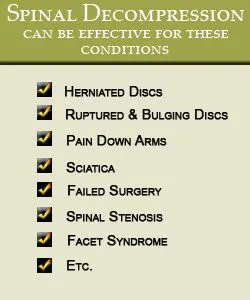 Dr. Eric Janowitz and his team will provide you and your family with some of the most advanced technology available for health and wellness - While simultaneously giving you true "Old Fashioned Care."
---
Common Questions & Answers About Spinal Decompression Therapy
What conditions does Spinal Decompression treat?
Spinal Decompression therapy is an innovative and non-surgical treatment for disc injuries resulting in neck, back, and limb pain. Spinal Decompression Therapy is designed to help patients who suffer from disc problems including disc bulge, disc herniation, disc protrusion, annular tears, formainal stenosis, degenrative disc disease in the neck (cervical spine) or low back (lumbar spine). Symptoms may include neck or back pain, arm, leg pain or numbness. This may include painful sciatica, numbness in the legs or feet, or numbing carpal tunnel like symptoms. Spinal decompression also benefits individuals with facet syndrome, where the spinal joints are inflamed and not functioning well.
How does Spinal Decompression work and what will I feel?
Patients lie on the Decompression Table and are placed in the most comfortable position. With our special Kennedy Decompreesion table, we are not limited to only placing the patient in the way the table can only do, but rather we can set the patient up for maximum comfort and effectiveness. Decompression therapy has three main objectives. First, The computerized process involves a series of gentle stretches that separate the vertebrae causing the trapped or pinched nerve to have more space and be "free" of compression thus alleviating many of the symptoms, Second, decompression causes negative pressure in the disc which can result in the protruded or herniated to be pulled back within the normal confines of the disc, and permit healing to occur. Finally, the gentle pumping action utilized by the Decompression Table helps nutrient-rich fluids flow to the inside of the disc. This allows for additional healing to occur in the areas of disc degeneration. Although these changes are almost imperceptible after each treatment, over time, the results are truly remarkable. At the same time, we are able to use electrical muscle stimulation and ice therapy to decrease any muscle pain or spasm and reduce pain causing inflammation.
Are there conditions where Spinal Decompression Therapy is not indicated?
Spinal decompression therapy is not recommended for pregnant women, patients who have severe osteoporosis, severe obesity or severe nerve damage. We offer a FREE MRI report analysis to see if you qualify.
Spinal surgery with instrumentation (screws, metal plates or "cages") is also contraindicated. However, spinal decompression therapy after bone fusion or non-fusion surgery, may be performed.
What if I am currently under care with my medical doctor, neurologist, orthopedic, physical therapist, or another chiropractor for my disc problem?
Spinal decompression therapy can enhance other treatments you are currently receiving from other health care providers. We are excited to perform this vital therapy and co-manage your case with your other physicians in order to provide the best possible care.
How much does it cost?
The cost of the treatment will depend on the patient's condition. A typical cost of treatment ranges between $1000 - $3000. We offer a broad range of payment plans to fit your budget, we accept all major credit cards, and we offer interest free financing through Care Credit.
How do I get started?
We want make it easy for you to learn if you are a candidate for spinal decompression therapy. Simply call our office at (407) 505-4320 to schedule an appointment. Mention this article and you will receive a complete evaluation - including consultation, history, computerized nerve testing, X-rays (if indicated) and report of findings...FOR ONLY $27.00
---
Spinal Decompression Success Stories